The first Digital Chalkboard
---
Tabletop display for restaurants and bars
---
This is viewneo Diwa, a digital chalkboard. Like other chalkboards, viewneo Diwa can display the breakfast specials or the ice cream menu. But viewneo Diwa is different. viewneo Diwa is digital.
✔
Increase table turnover
✔
Reduce working time
✔
Contactless payment possible
✔
Scan QR code, receive MenuCard
✔
Optional: Call system
✔
Optional: Automatic upselling through connection to cash register systems
✔
and much more
---

Croissants for breakfast

Good wine for dinner

---
Every restaurateur knows that displaying specials directly at the table is a benefit. Nowhere else allows you to get closer to your customer. But it also requires a lot of work to keep everything up to date. Breakfast specials in the morning, lunch recommendations, and dinner and cocktails in the evening. Not mention daily specials or the catch of the day. To be successful in gastronomy is to be ready to change.

With viewneo Diwa, restaurant and bar operators can help automate these processes. Content can be created from anywhere and sent to individual tables, or groups of tables. Additionally, using time controls, the content will automatically update. So, your communication with your customers is always up to date.
High-quality design

Smart technology

---
viewneo Diwa is the first digital chalkboard designed for tables in bars and restaurants. It combines a natural high-quality design with current IoT technology. A real wooden base with an aluminum-framed E-paper display serves as an advertisement board and menu cardholder at the same time. Thanks to the E-Paper technology, it is easy to read even in direct sunlight. It's a great way to incorporate technology into your restaurant without overwhelming your customers. And the long battery life means, no need to have cables running all over the place.
Unobtrusive digital technology that fits in gastronomy.
How to get your messages onto the digital chalkboard viewneo Diwa
Draw by hand, or use the app or CMS. Finished templates make it quick and easy.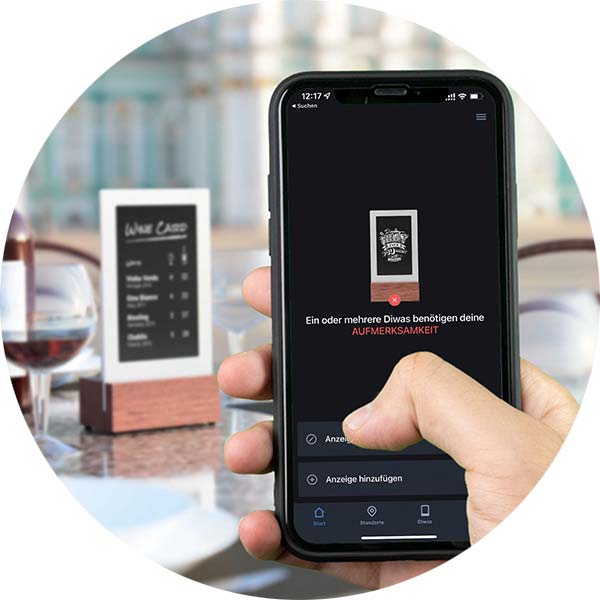 Stylish content via app
Design using the chalkboard designer and send it to individual or all tables.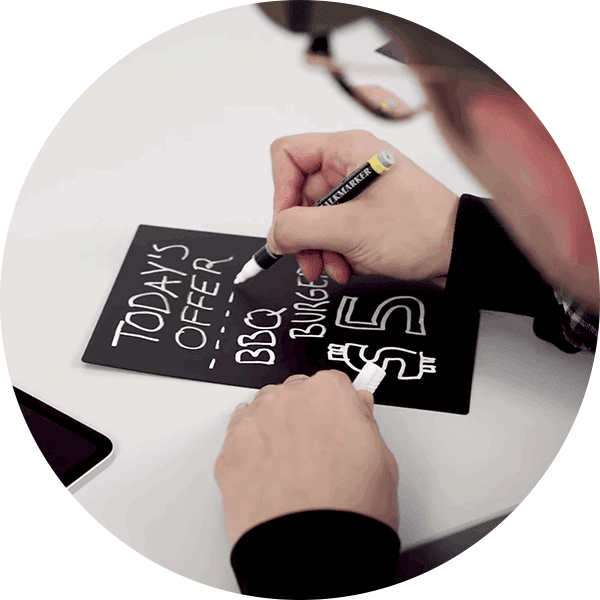 Draw it, take a photo, send via app
Use the Diwa app to take a photo of your drawing then transfer it to the table displays.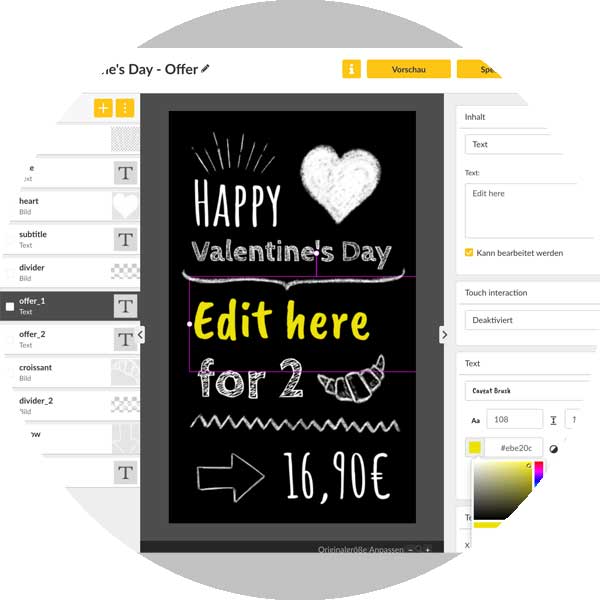 Online Design Tool
The viewneo Diwa Online Tool helps you make great designs on your PC.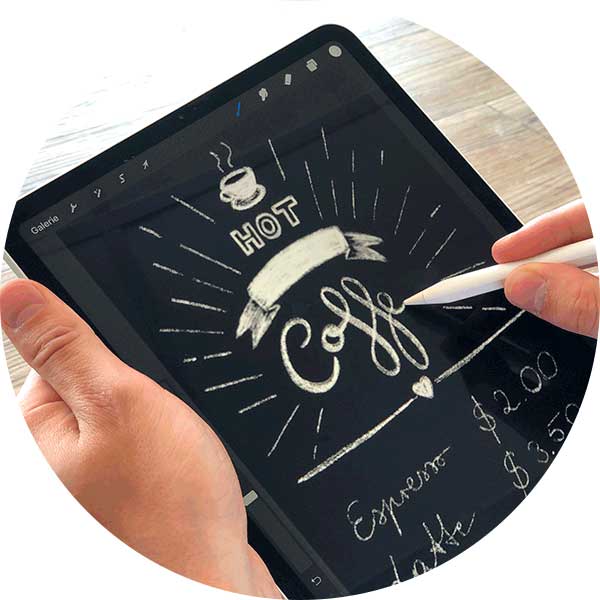 Calligraphy apps and iPad
Create beautiful chalk art with special calligraphy apps on your iPad.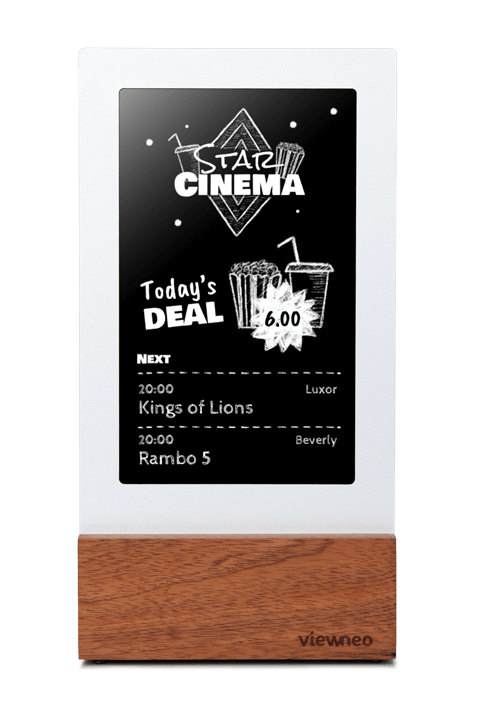 Fancy calligraphy

Over The Air_
---
Using the app, you can send your chalk art directly to one or more viewneo Diwa device. All of your creations are saved in the cloud and can be reused anytime. Don't have the time to create your own drawings by hand - no problem. With viewneo Diwa you can access a library or different design templates and create chalk artworks with just a few clicks. Helping you save time and money.
---
You don't have to be near the chalkboards to change the content. viewneo Diwa can be controlled anywhere you have an internet connection. Timers help to predefine what content will be displayed and when. This allows you to rotate through content based upon the time of day and menu changes, automatically.
---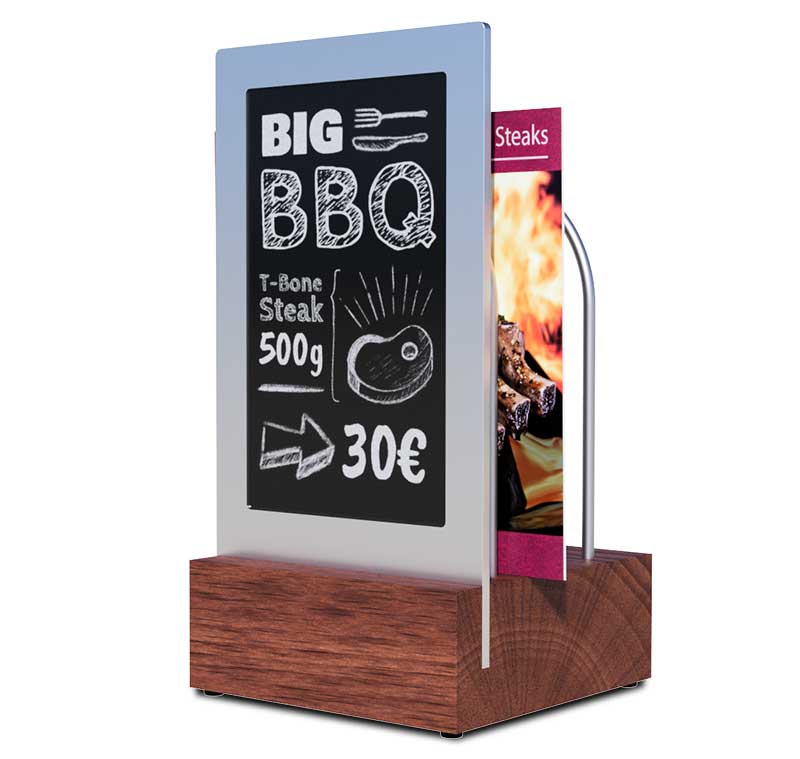 Keep Customers Up to Date

In an Unobtrusive Way

---
Improve service quality by providing relevant information where the guests are - right at the table. Display when a new reservation comes in or the daily specials. The viewneo Diwa is designed to provide updated information in real-time.
Thanks to the elegant design, it is now possible to integrate modern technology inconspicuously into the interior of a restaurant. An aluminum frame and customizable wooden base provide a decorative way to display information that still creates a modern ambiance. So smart, so simple.
Seamlessly Connect
With other viewneo products
viewneo Diwa can be connected with the viewneo Digital Signage cloud. This means that you can use your content across all of your platforms, including digital menu boards.
It also helps to improve corporate communication by allowing all created content to be saved for future use. Additionally, corporate design guidelines can be shared across multiple geographic locations to allow for easier central management.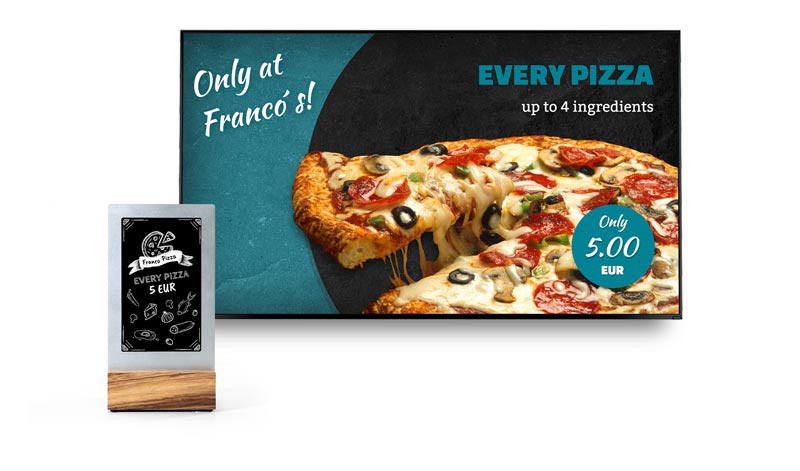 What makes viewneo Diwa unique! h2>
Diwa Variants

Noble shakers instead of menu cards

---
viewneo Diwa is available in different versions. As a cardholder with long wooden base for several menu cards or with short base for one or two cards. Also, with salt and pepper shaker on the back with or without cardholder. On the picture, you can see the version with noble shakers without cardholder.
Cards Back: Short wooden base
Shaker Back: Short wooden base
Sales contacts and subsidiaries h2>
D-A-CH
Adversign Media GmbH
Immermannstraße 12
40210 Düsseldorf
Germany
Email:
sales@viewneo.com
Tel.:
+49 (0) 211 355 814-14
Benelux
Go-360.nl
Backupstraat 20
1033 NX, Amsterdam
The Netherlands
Email:
info@go-360.nl
Phone :
+31 0646518400
Greece
Notice Content and Services
Valaoritou 9,
10671 Athens
Greece
Email:
diwa@notice.gr
Tel:
+30 210 3634061
Contact us

We are looking forward to hearing from you!

Use this contact form to submit your request.
Or contact us directly here: +(49) 211 355 814 14

Dealers and partner inquiries welcome!
You are a dealer and are interested in reselling or want a partnership with us? We would love to. Start a reseller request now.